Mapping the Buy 
Mapping the buy is the process of dividing the items you are buying in established categories and then treat those categories in different ways, accordingly to the needs of each item. 
For example, an automotive company will buy a lot of different items, like wipers for the windows, tires, electronic components for panels and other functionalities, they also need to buy navigation systems. 
So, looking at the whole process, they need to know a couple of important aspects about each item, for instance: 
How many to buy? 
What's the cost of each item? 
Is the item unique or it's easy to find? 
Are there enough suppliers to attend the demand? 
This will help your procurement strategy determine which items have higher risk and impact on your supply chain and which are easier to deal with. Also, will help you optimize your annual spend, making your company more profitable. 
Value and Risk Mapping 
Evaluating the items, you need to buy considering risk, impact and spend is going to form a two-by-two matrix like that: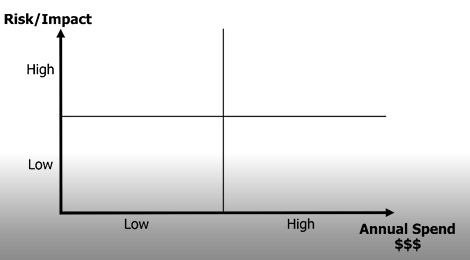 The items that are adequate to low risk and low spend are called tactical. The "simple market", they have many suppliers, excess of capacity, standard specifications and are easily replaceable. 
On the left-top there are the high risk and low spend items, also known as critical. They are a complex market, not a lot of suppliers, the capacity of items is restricted with unique specifications, and they are not easy to replace. 
On the high value low risk quadrant are the leverage items. They are also generic items, but a lot of money is spent buying it, so they represent a good opportunity to save money. 
Finally, on the high spend and high-risk quadrant there are the strategic items. They represent the competitive advantage of the company. Here are the items that distinguish the production from others. 
Mapping the Buy Strategies 
Once you have delimited all the items you need do buy you can start to define some strategies on each level for maximizing profit. This will make save time and money during the acquisition process. 
Each quadrant will have its own strategies and ways to optimize as it follows:  
Tactical: streamline acquisition process; reduce activity; minimize number of transactions and use vendor management inventory. 
Leverage: maximize leverage; standardization of everything; consolidate volumes; reduce transaction costs; global sourcing and active sourcing. 
Critical: reduce risk; eliminate as much as possible; substitute items as much as possible and simplify the buy. 
Strategic: strategic alliances; share cost reduction; partnerships; limited active sourcing and supplier development. 
Those are basic guidelines for strategies in each level. Although the approach on real supply chains is much more complex and usually apply more than one strategy. 
The problematic of the critical quadrant 
The critical quadrant should be avoided because most of the problems in procurement and supply chain management occur in those items. So, you should look for ways to move from critical buy to tactical buy. 
One way to do this is find more suppliers. If you have more suppliers, you can negotiate better and be more incisive in what you are looking for. Not only that, but you will also have less risk of stockout. 
Another good way is change engineering specifications and lower the complexity of your product. That way you will need less unique items and therefore have a larger scope of action and suppliers. 
You can also move from critical to leverage. In this case, you also need to lower the complexity but consolidate the buy. A good way to do that is finding partnerships with others to increase the volume of the buy. 
This way you'll give the supplier more business, which will make sure you are a bigger and more important client to that supplier, consolidating and establishing the relationship. 
The last possibility is taking it to the strategic level. To do this a good strategy is to increase value to the supplier and the partnership. This way you'll not only have a longer relationship with the supplier but will have a gain in value for both. 
Why mapping the buy?
The necessity of constructing a map is justified to better understand, communicate, level-set and coverage of how a process work. This way the model is a symbolic representation of how the workflow is viewed as a process. 
These representations are good to create new workflows, reengineer the process or even evaluate if things are working properly. Also, they help you keep track of improvements and develop other support systems. 
 On the case of the buying map you must keep in mind that the most problematic area is the critical one, and good strategies will try to get items out of the critical quadrant.  
Doing that will reduce the problems facing your procurement process and supply chain and will generate more value for your company and partners. By the end, keeping items out of the critical quadrant will result in better processes and profit. 
With Supply Brain, you plan your purchases automatically taking into account your demand, lead time, costs, and economic order. Want to know how we can help you map your purchases? Get in touch with us!